COVID-19 Updates
28th February 2021 Level 2
As we move from Level 1 into Level 2 Covid19 restriction we ask that you keep yourselves safe. To keep us all safe we do need to implement tighter processes within the medical centre.
Please do not cancel or change any appointments that you may have at the medical centre, it is important to look after your health.
We will continue to screen all patients and triage any with acute respiratory symptoms.
Our front door will be locked, please press the buzzer at the front door to allow our staff to let you enter, we will only allow patients with pre-booked appointment to enter into the practice.
We will be limiting our waiting room capacity.
Please remember to keep using the QR Tracer App, with blue tooth switched on, as this is invaluable. Wash your hands and stay safe.
Please call 042338019 to talk to one of our team or Covid Healthline 0800 358 5453.
For up to date information from MOH please click here
Thank you.
COVID-19 vaccines
The office of the Prime Minister's Chief Science Advisor has pulled together a really handy collection of information and videos to answer just about any question you might have regarding the COVID 19 vaccines. Please click here for the link
22 September 2020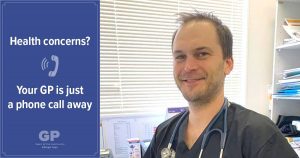 Level 1 within the practice
We continue to screen everyone over the phone or via MMH as our top priority – please be honest, this assists us with managing patients with symptoms – a sore throat, dry cough, fever or short of breath, this is to protect you and our staff from any risk no matter how small.
We prefer you to not enter the practice without an appointment.
If you want general information regarding the Level 1 situation please go to www.covid.org.nz
Managing your health is very important to us and remember that if you are unwell or have any concerns – please don't delay and call us on 04 233 8019. We are able to book an appointment for you – whether it is a phone/video or an in-person appointment:
We will be encouraging everyone to turn up on time for their appointments and not too early. Our aim is to run our appointments on time, so you are not required to sit in the practice for long periods. Of course, this is our aim and with the nature of health we do have emergencies that does hold us up at times. If we are running late we may ask you to go back to your car and we will call you when your doctor or nurse is ready to see you.
Our front door remains locked – please ring the bell for attention.
Use of Hand sanitiser when you come in and leave the practice.
Limited seating – to assist with smaller numbers in the practice waiting room.
Most appointments will be in person but we will be offering the option for you to book an appointment for either a video or phone consult, we do have more information on the terms and conditions for this option, this information is on our website under the Service tab.
The Lab service will be returning to the practice on 28th September – Mon and Fri 9-9.30am, Wed 8-8.30am.
Contact Tracing is very important. We keep a record of who comes in and out of the practice. If you are a visitor or a support person you will be asked to sign in at the front desk or scan your QR code at the front entrance.
If you are on facebook – please follow our page "Mana Medical Centre Ltd" to keep updated with any additional educational information.
 Our aim is to provide healthcare to all that need it. During a pandemic it is very important to reduce the spread of the disease and to protect the healthcare workers so we can care for you.
For updated information please go to COVID-19, visit www.covid19.govt.nz
For advice please call Healthline on 08003585453
If you have been advised by the healthline team to see your GP, please stay home and call us on 04 2338019 and speak to one of our health professionals.
For further information from the Ministry of Health please click here 
Please click here for a good resource for kids on Covid19.
If you are having any anxiety issues this site may assist you and your family. https://www.mentalhealth.org.nz/get-help/covid-19/
FACE COVID – How to respond effectively to the corona crisis click here